Posted:
November 24th, 2014 |
Author:
Lee White
|
Filed under:
Chimera
,
Manfrotto
|
Tags:
Chimera
,
Chimera Window Pattern
,
editorial photographer
,
Lee White Photography
,
Manfrotto
,
Spectra 900F LED
|
No Comments »
As an editorial photographer photographing on location and traveling by air frequently, I need sturdy, compacted and powerful lights. Now that editorial photographers have to create videos along with still photographs the lights should be able to do double duty for still and motion. LEDs are the perfect choice since they are very sturdy so able to withstand the baggage handlers and inspections. The bulbs last a long time, up to 50,000 hours with little change in intensity and color balance. LEDs draw little power so hooking up to outlets that also have computer inline do not have the same hazardous that strobe surges create or the power draw of tungsten. The new Spectra series from Manfrotto fit the bill perfectly.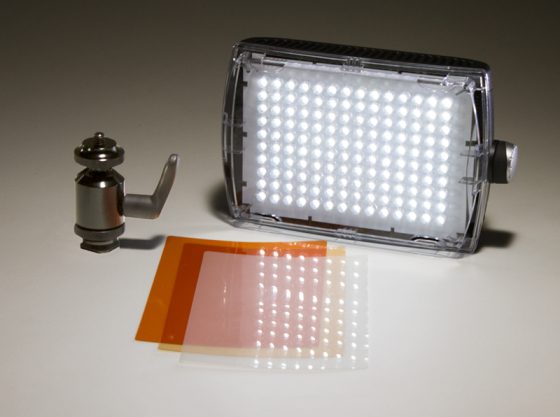 The Spectra 900F is a daylight only balance powerful on or off camera LED compact light. It has a 50 degree wide beam. As you can see from the picture you get the light, ball head and three large filters in CTO, 1/4 CTO and opal diffusion. The ball head allows you to either mount the Spectra to the hot/cold shoe on your camera or by using the 1/4" threading allows various mounting possibilities. You might like to use the new lightweight Manfrotto NanoPole Stand with the Spectra 900F, I'll describe it more fully in another blog entry. The Spectra 900F works for about an hour at the highest setting on 6 AA batteries, AC adapter, or D-Tap adapter for various power sources.
I was able to use the 900F by itself and with other Spectras for a variety of photographs and videos. I stretched the Spectras to the limit of their capabilities. In the 50's glamour shot above, I used direct light for the main light high and to one side creating a small shadow under the nose and gently contouring the face. I used a Spectra as a back rim light to softly fill the shadow on the face, neck and shoulder and help give highlights to the hair. To make the background more interesting and add to the 50's glamour look I used a third Spectra shining through a Chimera Window Pattern Kit to cast a palm leaf pattern.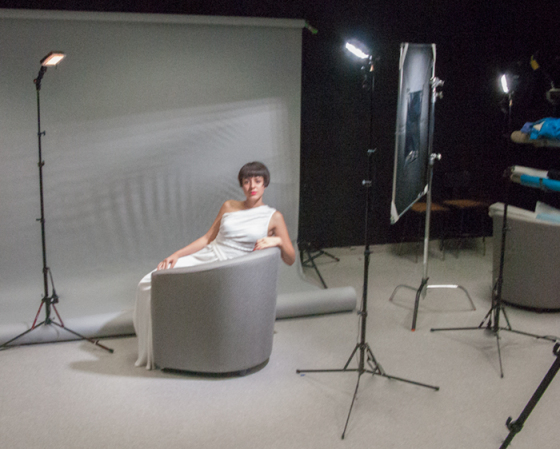 For more information:
http://www.manfrotto.us/category/24329.8373.8465.0.0/LED_Lighting
http://chimeralighting.com
---