Posted:
December 6th, 2015 |
Author:
Lee White
|
Filed under:
Red Giant Software
|
Tags:
effects
,
Redgiant
,
video
|
Comments Off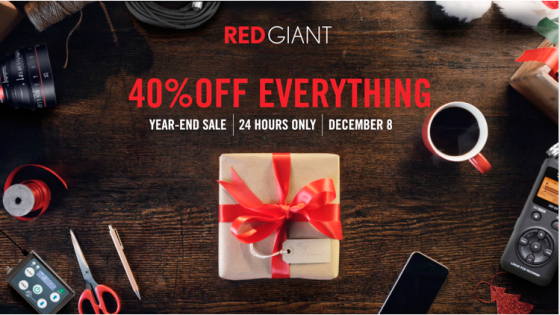 Folks – Don't fall victim to Black Friday or Cyber Monday! Save your money… for just a little while longer. On December 8, 2015, Red Giant is having a Year-End Sale. Here's what you need to know:
40% off everything in the redgiant.com store.
24 Hours Only!
Sale Starts: 12/8/15 – starting at 08:00 AM PST.
Sales ends: 12/9/15 at 08:00 AM PST
The sale discount is for everything in the Red Giant store:
Full licenses
upgrades
academic store (which is already 50% off)
Suites
Individual products.
40% OFF EVERYTHING. REALLY. WE MEAN IT.
How to Get 40% off: On the day of the sale, there will be a coupon code – it will be all over our site. You won't be able to miss it.
ACADEMIC BUYERS: If you are a student or faculty and want to buy from our academic store, please make sure to Pre-Qualify as an academic buyer before the sale, or you may miss out on the sale price.
So… to follow up… This means that, for one day (Dec. 8, and a few hours of Dec. 9), you can get 40% off Trapcode, Magic Bullet, PluralEyes, Universe and everything else in our Red Giant store. Some examples of savings:
Trapcode Suite: Usually $999. Get it on sale for just $600
Magic Bullet Suite: Usually $799. Get it on sale for just $480
PluralEyes: Usually $199. Get it on sale for just $120
Universe Premium Annual: Usually $99. Get it on sale for just $60
Reminder: These are just examples. EVERYTHING will be on sale at 40% off. If you have any questions, we are here for you. Please contact us at redgiant.com/support and we'll help you out.
---